Specialized in precise dry milling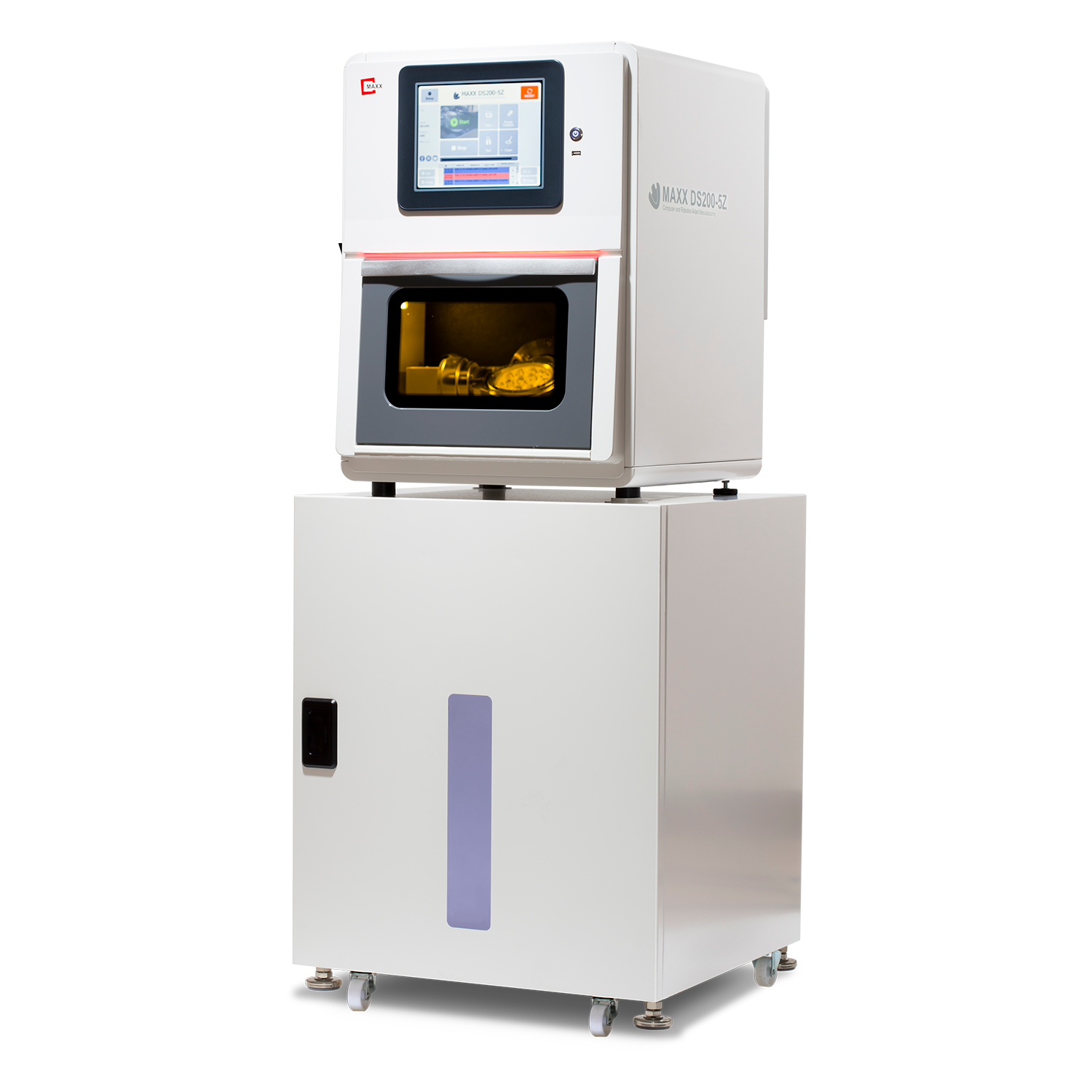 5-Axis Desktop Milling Machine
DS200 – 5Z is a 5-axis desktop milling machine and specialized for soft materials. Small and compact, but fast and accurate milling.
High Precision and Stability
Optimized to delicately mill with thin margin. The prostheses that require sophisticated techniques such as facial, undercut, inlay, and veneer can be milled out precisely without chipping.
Milling Materials
Zirconia, wax, PMMA, hybrid ceramic, C-type clamp
Simplified Operation
Our user-friendly software, MAXX continues milling functions to save time. You can have remote services and training and operate the machine through MAXX LINK.
MAXX has more other functions to help the milling process more convenient and safe.
Fast and powerful spindle
DS200 series : 500W
Maximum 60,000~80,000rpm
Maximize productivity
Operation of multiple machines by remote program (MAXX LINK)
Granite base frame
Minimized vibration, corrosion and deformation caused by heat
Enabled coping margin to be thinly designed
Minimized margin chipping and hand finishing work
User-friendly MAXX
Auto calibration
(open system) Compatible with all scanner and CAD
Tool sensor to detect tool breakage
Continue milling function to save time
MAXX LINK for remote service, operation and training
AC Servo Motor
Servo motor suitable for high torque installed in all products
Stable and precise control and milling
| | |
| --- | --- |
| No. of Axis | 5-Axis |
| Size and Weight | 500W x 682D x 712H, Approx. 100kg |
| Controller and motor | Windows based PC (10.1" touch screen), AC Servo motor |
| Index operating ranges | A=±34deg, B=±180deg |
| No. of tools and tool spec | Shank diameter : 3mm, ATC 12 Tools |
| Spindle | BLDC motor, 500W, 60,000rpm |
| Material & Jig | Zirconia, wax, PMMA and hybrid ceramic, C-type clamp |
| Cooling | Dry |
| Utility | AC220/6A & Compressed air (6.5bar) * Disc (Φ98, height: 10~30mm) and pin-type (6 pins) |